High Power (23dbm) 108Mbps USB 2.0 Adapter/EXT-NUB-362(EXT)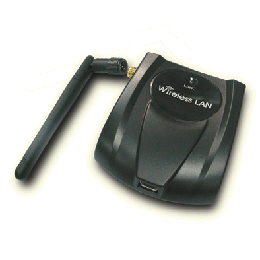 The USB 2.0 wireless card supporting 802.11b/g (2.4GHz) radio operation. It provides high-speed wireless connection with data rate up to 108Mbps. The shirking dimension, light weight & lower power consumption design can easily integrate into a wide range of OEM/ODM device

NUB-362(EXT) has high power and high sensitivity. Further, it provides an External Antenna which can easily advance your distance and performance more flexible.
To protect your wireless connectivity, the high-speed wireless USB adapter can encrypt all wireless transmissions through 64/128/152-bit WEP data encryption and also supports WPA. With the High-Speed Wireless USB Adapter, you will experience the best wireless connectivity available.
* Product Features :
| | |
| --- | --- |
| Features | Benefits |
| High Speed Data Rate up to 108Mbps in Super G mode | Capable of handling heavy data payloads such as MPEG video streaming. |
| High Output Power up to 23 dBm | Excellent output power spreads the operation distance |
| Advanced Encryption Standard (AES), Temporal Key Integrity Protocol (TKIP) and Wired Equivalent Private (WEP | Powerful data security. |
| IEEE802.1x Client Support | Enhances authentication and security. |
| Support for 802.11e standard | Wireless Multimedia Enhancements Quality of Service support (QoS) |
| Advanced Power Management | Low power consumption in power saving mode up to 98%. |
| Support eXtended Range technology | eXtended Range technology give Wi-Fi products twice the range of existing designs |
| External (changeable) Antenna | Changeable Antenna provides users more flexible to select other antennas |
* Spec. :
Data Rates

802.11g: 6, 9, 12, 18, 24, 36, 48, 54, and
Up to 108 Mbps
802.11b: 1, 2, 5.5 and 11Mbps


Standards / Compliance

IEEE802.11, IEEE802.11g, IEEE802.11b, draft IEEE 802.11e, and i standards, IEEE802.1x

Regulation Certifications

FCC Part 15/UL, ETSI 300/328/CE

Operating Voltage

5 V +/- 0.25V

Status LEDs

RF link activity

Drivers

Windows 98SE/ME/2000/XP

RF Information

Frequency Band

U.S., Europe and Japan product covering 2.4 to 2.484 GHz, programmable for different country regulations

Media Access Protocol

Carrier Sense Multiple Access with Collision Avoidance (CSMA/CA)

Modulation Technology

802.11g: OFDM (64-QAM, 16-QAM, QPSK, BPSK)
802.11b: DSSS (DBPSK, DQPSK, CCK)


Operating Channels

11 for North America, 14 for Japan, 13 for Europe, 2 for Spain, 4 for France

Receive Sensitivity (Typical)

2.412~2.472G(IEEE802.11g)
6Mbps@ -91dBm;
54Mbps@ -76dBm
2.412~2.472G(IEEE802.11b)
11Mbps@ -91dBm;
1Mbps@ -96dBm


Available transmit power

FCC (Typical)
2.412~2.472G(IEEE802.11g)
22 dBm @ 6 ~ 24 Mbps
21 dBm @ 36 Mbps
20 dBm @ 48 Mbps
19 dBm @ 54 Mbps
2.412~2.472G(IEEE802.11b)
22 dBm @1~11Mbps
ETSI (Typical)
2.412~2.472G(IEEE802.11g)
20 dBm @ 6 ~ 24 Mbps
20 dBm @ 36 Mbps
20 dBm @ 48 Mbps
19 dBm @ 54 Mbps
2.412~2.472G(IEEE802.11b)
20 dBm @1~11Mbps


Antenna

Dipole antenna (2dBi detachable antenna)

Networking

Topology

Ad-Hoc, Infrastructure

Security

IEEE802.1x support for LEAP/PEAP
WPA-Wi-Fi Protected Access (AES, 64,128,152-WEP with shared-key authentication)


Physical

Form Factor

USB 2.0 / 1.1

Dimensions (LxWxH)

75.2(L) mm x 53.9(W) mm x 14(H) mm

Weight

40 g/ 1.5oz

Environmental

Temperature Range

Operating: -0C to 55C
Storage: -20Cto 75C


Humidity (non-condensing)

5%~95% Typical

Package Contents

One CD-ROM with User's Manual and Drivers
One USB dongle
One Antenna (2dBi)


Related Product(s)

11 a/b/g High-power Wireless USB 2.0 Adapter
NUB-862
11 a/b/g Wireless USB 2.0 Adapter
NUB-8301