About us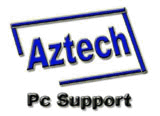 No matter what the situation, the first concern of Aztech PC Support is to be sure all the information on your computer is backed up or rescued completely. We constantly research new equipment, software and tools so that we can provide our customers with the best and most up-to-date technology and solutions available. Hardware maintenance is scheduled so as not to conflict with your work or company operation, or to accommodate any travel needs. Our technicians make and keep appointments promptly to service your computer in your home or workplace. At Aztech PC Support, we also invest in and upgrade our own equipment regularly so as to stay on the cutting edge of new technology and provide our customers with the best solutions and the best results.
If you're already one of our clients, we want to thank you for letting us be your tech support and computer services provider. Your satisfaction is our goal!.
We also want to thank Friends of Mexico and The American Legion for the Certificates of Appreciation, below.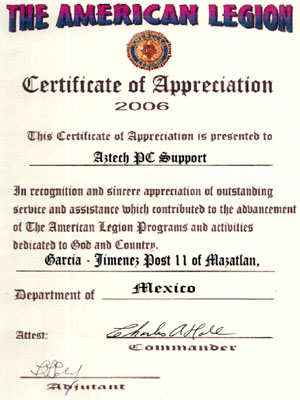 click to enlarge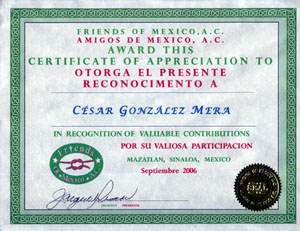 click to enlarge