High-Speed NUB-362 Wireless USB Adapter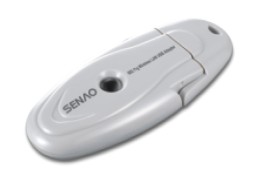 The High-Speed Wireless USB Adapter is the most convenient way to let you put a notebook computer almost anywhere without the hassle of running network cables. Now you don't need to suffer from the drilling holes and exposed cables. Once you are connected, you can do anything, just like the wired network. The highspeed wireless USB adapter operates seamlessly in the 2.4GHz frequency spectrum supporting the 802.11g (54Mbps) wireless standard.
To protect your wireless connectivity, the high-speed wireless USB adapter can encrypt all wireless transmissions through 64/128-bit WEP data encryption and also supports WPA. With the high-speed wireless USB adapter, you will experience the best wireless connectivity available.
| | |
| --- | --- |
| Features | Benefits |
| High Speed Data Rate up to 54Mbps. | Capable of handling heavy data payloads such as MPEG video streaming. |
| Standard , Temporal Key Integrity Protocol (TKIP) and Wired and Equivalent Privacy (WEP). | Supports wireless data encryption with 64/128-bit WEP standard for security & WPA. |
| IEEE802.1x Client Support | Enhances authentication and security |
| Advanced Power Management. | Low power consumption up to 98% in power saving mode. |
| Support USB 2.0 | Compliant with Universal Serial Bus Rev.2.0, 1.1, 1.0 specification. |
| Multi-country Roaming (802.11d) support. | Automatically adjusts regulatory domain to operate in different countries. |
Technical Specifications

Data Rates

802.11g: 6, 9, 12, 18, 24, 36, 48, 54Mbps
802.11b: 1, 2, 5.5, 11Mbps

Standards / Compliance

IEEE802.11, IEEE802.11g, IEEE802.11b,

Standards, IEEE802.1x

Regulation Certifications

FCC Part 15/UL, ETSI 300/328/CE

Operating Voltage

5 V ± 0.25V

Status LEDs

RF link activity

Drivers

Windows 98SE/ME/2000/XP

RF Information

Frequency Band

U.S., Europe and Japan product covering 2.4 to 2.484 GHz, programmable fordifferent country regulations

Media Access Protocol

Carrier Sense Multiple Access with Collision Avoidance (CSMA/CA)

Modulation Technology

802.11g: OFDM (64-QAM, 16-QAM, QPSK, BPSK)
802.11b: DSSS (DBPSK, DQPSK, CCK)

Operating Channels

11 for North America, 14 for Japan, 13 for Europe, 2 for Spain, 4 for France

Receive Sensitivity (Typical)

2.412~2.472GHz (IEEE802.11g)
6Mbps@ -83dBm;
54Mbps@ -72dBm

Available transmit power

2.412~2.472GHz (IEEE802.11g)
15 ± 2dBm @6~ 24Mbps
14 ± 2dBm @36Mbps
13 ± 2dBm @48Mbps
12 ± 2dBm @54Mbps
2.412~2.472GHz (IEEE802.11b)
15 ± 2dBm @1~11Mbps

Antenna

Integrated with built-in diversity

Networking

Topology

Ad-Hoc, Infrastructure

Security

IEEE802.1x support for LEAP/PEAP WPA – Wi-Fi Protected Access(64,128-bit WEP with shared-key authentication)

Physical

Form Factor

USB 2.0

Dimensions

77(L) mm x 26(W) mm x 12(H) mm

Weight

40 g/ 1.5oz

Environmental

Temperature Range

Operating: -0°C to 40°C
Storage: -10°Cto 70°C

Humidity (non-condensing)

10%~95% Typical

Package Contents

One USB Adapter
One CD-ROM with User's Manual
and Drivers

Related Product(s)

NUB-862 11 a/b/g High-power Wireless USB 2.0 Adapter
NUB-362 11 b/g High-power Wireless USB 2.0 Adapter
NUB-8301 11 a/b/g Wireless USB 2.0 Adapter
Theoretical wireless signal rate based on IEEE standard of 802.11a, b, g chipset used. Actual throughput may vary. Network conditions and environmental factors lower actual throughput rate.