Are you planning to have a new computer ?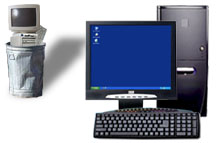 Brand new computer must not be expensive to represent the best option, known trademarks usually have importat deficiencies that buyers must consider before purchasing a new computer.
The most popular companies create stetic computers, atractives at our view, however the most important for best performance in a computer are internal devices.
Before purchasing a new computer, is necessary identify the specific task we need in a computer to do, as the information amount we want to process, manage, and storage. Is also important to know the possibilities to upgrade the computer from current capacity to a better architecture in the future. Knowing this, we will be able to save cash and to make a good investment in technology.
When purchasing a computer we must consider warranty policy, and technical support policy, offered by the provider, it is also important to consider the operative system loaded in the computer, antivirus and helpful programs in order to have all needed tools, because most new computers have trial versions of software and those will work just partially.
Most of people who sell computers do not have specific technical information about computers, computers are technology and are constantly changing, improving features and putting advanced tools to save time when working.
Every day about 500 new viruses are released to the internet and is very easy to get the computer infected, a good antivirus is not enough to keep your computer clean, we recommend specific programas and advice to keep your computer safe against virus, spy programs, and hackers.
We recommend with much emphasis to consult expert personnel in computer science before making a strong investment in equipment, doing that, you will save a considerable amount of cash.
En Aztech Pc Support ofrecemos el servicio libre del consejo para la adquisición de su computadora, también proporcionamos servicio de la integración de los dispositivos y la venta de las computadoras diseñadas especialmente para cubrir sus necesidades. Tenemos la capacidad y el conocimiento de diseñar una arquitectura que le proporcione integridad y buen funcionamiento a su gerencia de información, y si usted decide comprar su computadora con nosotros, le proporcionaremos 1 mes de ayuda técnica libre y un año de la garantía en su hogar.
We invite you to choose our free technical support and advice services to choose the best option.
Aztech Pc Support
César González
e-mail: cesar@aztechpc.com
Cel phone: 044 669 - 994 3705
Management / Tech support

Eduardo García
e-mail: egarcia@aztechpc.com
Cel phone: 044 669 - 110 4089
Systems development / Tech support